Lemax zombie records Spooky Town 2021
Lemax zombie records Spooky Town 2021
Our webshop is closed, We hope to see you again in June / July 2023.
Free delivery is possible depending on the order value.
14 days return policy.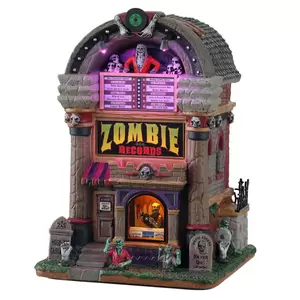 Lemax zombie records Spooky Town 2021
Description
Lemax Zombie records is a beautiful item for your Spooky Town to make your village complete. This item with lights, moving parts and music creates a nice atmosphere in your Spooky Town village. This article has been added to the Spooky Town collection in the year 2021.
The Lemax Zombie records includes a standard lemax 4,5v Power Adapter with one output so you can connect it to the outlet. Would you rather have multiple items connected to your outlet? You can buy a Power Adapter with three outputs so you can connect three Lemax items on the outlet.
Specifications
Article number

708232

EAN code

728162157263

EAN trade

15726

Brand

Lemax categories

Building

Year of introduction

2021

Village name

Spooky Town

With lighting

Yes

With movement

No

With music

No

Inside scene

Yes

Power supply

Lemax Adapter 4.5 v is included.

Height in cm

20.6

Size

(B x D x H) 14,4x14x20,6 cm
Read more
Read less
Lemax "Lemax zombie records Spooky Town 2021" fits well with above Lemax products. Or combine Lemax "Lemax zombie records Spooky Town 2021" with various other Lemax products.