Lemax adapter
By using a Lemax adapter it's possible to bring out the true beauty of the Lemax miniature villages. With electrical power these beautiful villages can truly come to life. Only when the moving parts and atmospheric lights are all working can your Christmas village reach its full potential. In order to use the lights and the moving parts of these villages you need a reliable, stable and safe source of electricity. This is why it is crucial that you buy a Lemax adapter or lamp either when you are replacing an old or worn-out adapter or starting your village from scratch.
A Lemax adapter ensures your loved ones' safety
While there are many other electrical power adapters available at both online and offline stores, the Lemax adapter is specifically designed to handle the particular needs of a Lemax miniature product. You need this highly specialised attention to detail and product design if you want to ensure the maximum safety of your family this Christmas season. Considering the fact that you'll probably put your Lemax village near a Christmas tree this season, you need to ensure that your fire risks are minimal. This alone is a powerful enough reason to insist on a branded adapter when shopping for adapters.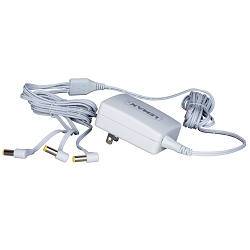 New Lemax Adapter
Want to add the newest Lemax adapters for your Christmas Village? Check out the latest collection of adapters.
ORDER YOUR LEMAX ADAPTER NOW ->
Order your Lemax adapter on Christmas-Village.eu
There is no need to search high and low for a Lemax adapter when you can simply order it on Christmas-Village.eu along with all your Lemax buildings and accessories. Watch as Christmas comes to life with the sparkling lights and moving parts: this truly makes the magic of Christmas come alive. Your Christmas village is sure to draw an audience when it's electrical accessories are powered. Order your Lemax adapter now on Christmasvillage.eu.